What Makes a Pediatric Dentist Different?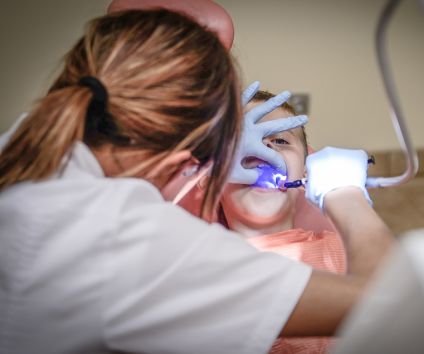 A pediatric dentist is a dental professional who has obtained the necessary training to provide oral care to children. Dentistry is a vast field; and dental professionals often choose to specialize in a special category of their professional field. Pediatric dentistry (pedodontics) requires additional years of studies.
The Training
Pediatric dentists need to undergo additional training after graduating from dental school. The dental school training lasts for four years. After that, a pediatric dentist will train for two more years (in some cases even three years) in order to practice as a pediatric dentist.
Pediatric dentists receive training that is specific to children's oral care. They are able to offer preventive as well as therapeutic care to children of all age groups. Children who may have certain medical conditions such as diabetes or cancer may require special care when it comes to their oral health. Pediatric dentists can cater to all these concern areas when it comes to children's oral health due to their special training.
The Services
Pediatric dentists offer many different services under general, preventive, and therapeutic dental care of children.
• Oral health exams – Infants, toddlers, children under 12, and teenagers have different oral care requirements. Infant oral examinations may be needed to check if there is an underlying problem that may cause any trouble when their teeth begin to appear.
Older children will have different needs. Teens may need braces or other treatments for correcting crooked teeth. Misaligned teeth can cause problems with speech and feeding. So, a pediatric dentist will provide treatments for such problems as well.
• Preventive care – General checkups are required to check for potential oral problems. With their affinity for sweets and junk food, kids can develop all sorts of dental problems. So, a pediatric dentist will also help to prevent any tooth decay. Preventive care also includes cleanups and fluoride treatments.
• Emergency care – Children are prone to falls and injuries, often resulting in oral injuries and broken teeth. It is imperative to see a dentist immediately in case of a broken tooth to prevent decay. Delays in treatment can also result in the loss of the injured tooth.
Dental pain can mean an infection in the roots and may require speedy treatment. Pediatric dentists offer all sorts of treatments for emergency situations involving children's teeth and oral health.
• Diagnostic care – Conditions such as diabetes, leukemia, or heart defects can have an impact on the oral health of children affected by them. Even hay fever and asthma can negatively impact the state of oral health in children. So, pediatric dentists diagnose such oral conditions and then devise a treatment plan to help their young patients.
• Treatments for gum diseases – Oral care is more than just tending to the cleaning of teeth. Children can also have conditions such as ulcers, mucoceles (cysts), and other gum diseases. Pediatric dentists will diagnose these diseases during general oral checkups and offer timely treatment.
• Counseling – Children need to be taught good eating habits that can impact their oral health. Pediatric dentists will offer counseling to children on nutrition and good eating habits. They will also offer treatments to discourage the habit of finger or thumb sucking in children. They will recommend the best products to use for children, such as the right toothpaste and the ideal toothbrush as per their age groups.
The Practice
Pediatric dentists create and maintain a kid-friendly office. The space is designed to help children feel comfortable as they visit the clinic for their various dental care needs. You will mostly find pediatric dental clinics either filled with bright or soothing colors. The waiting area is also often equipped with books and games for kids.
Pediatric dentists are also trained to offer relaxation medicines to children. Some kids may require sedation for extensive treatments; others even for minor checkups. A pediatric dentist will determine how and when to administer sedation to children for their proper oral treatment. They will also use special equipments designed for the children's mouths.
Children may not always be cooperative during their oral exams or dental treatments. A pediatric dentist has the expertise to make children feel comfortable and then offer the treatment.